Welcome to BlueBayGrandEsmeralda.com®
Blue Bay Grand Esmeralda Resort & Spa - All Inclusive
The BlueBay Grand Esmeralda is the finest of the Playa del Carmen hotels in Riviera Maya, Mexico. Experience the ultimate in 5-star luxury surrounded by a lush jungle, mangrove swamps and the stunning shoreline of the Caribbean Sea and watch the sun set with a cocktail on our own private beach. If you're looking for all inclusive holidays in Mexico, you've found paradise.
As you'd expect, the BlueBay Grand Esmeralda has some of the best facilities of all the all-inclusive hotels in Playa del Carmen and you'll want for nothing. There are 6 a la carte restaurants serving a range of food including Mexican, Italian, French, seafood and oriental amongst others.
Breakfast is served from 7am to 11am, lunch is from 12pm to 3:30pm and dinner is available from 6pm to 10pm. Snacks and drinks are available throughout the day and the Sportsbar is open around the clock.
There are three swimming pools with separate children's areas that can be used by all of our guests alongside the spa facilities, tennis courts, golf course and fully equipped gym. Additional services include 24hr healthcare facilities, car hire, childcare, laundry and room service.
It's not just us you have to believe, we were rated the best all inclusive hotel in Riviera Maya in 2010 by Expedia and we have countless other awards for our facilities, service and our commitment to ecology and preserving the ecosystem.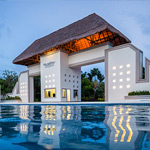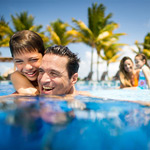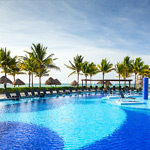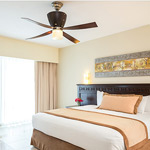 Hotel Policy
Children under 2 years are considered infants (babies)
Children aged 2 to 12 are considered children
Children over 12 years are considered adults
No pets allowed
Rooms are cleaned daily
Towels are changed daily
Bed linen is changed daily
Room check-in: 15:00h
Room check-out: 12:00h
Accepted currencies: Euro, U.S. Dollar, Canadian Dollar, Peso
Services
Available at no charge
24h reception.
Air conditioning in the buffet and in the 3 restaurants.
Consierge in each building.
Doorman in each building.
Business Center and Business Service.
Dry cleaning service.
Lifts.
Fitness equipment.
Wi-Fi Internet Access (additional charge in the room).
Children's club with 3 age divisions, ,with specialized staff.
Supervised children's activities (from 2 to 12 years old).
Night Club (in the lounge bar) .
Multilingual staff.
Parking .
Parasols (one per room) .
Available with charge
Audiovisual equipment.
Babysitting service (on request 24h in advance, subject to availability).
Beauty treatments.
Currency exchange.
Medical service.
Hairdresser.
Newsstand and souvenir shop.
Car rental service.
Travel and tours agency.
Translation services.
safety deposit-box.
Massage treatment.
Hairdresser.
Special packages for weddings and honeymoons.
Room service las 24h .
Laundry.
Sauna and steam baths.
Private beach.
VIP pack (extra comforts, Private beach and private consierge).
Hotel Facilities
International cuisine buffet-restaurant "Jaal-Ha" open from 7:00 till 11:00 and from 12:00 till 17:00.
A la carte restaurant with Italian cuisine. (Booking required. Open from 18:00h a 22:00h)
A la carte restaurant with Mexican cuisine. (Booking required. Open from 18:00h a 22:00h)
A la carte restaurant with Frenc cuisine. (Booking required. Open from 18:00h a 22:00h)
A la carte seafood restaurant. (Booking required. Open from 18:00h a 22:00h)
A la carte restaurant with cuisine specialized in American meat. (Booking required. Open from 18:00h a 22:00h)
A la carte restaurant with Oriental cuisine.
3 swimming pools sized 2.750m2 with separate area for kids.
Sports baropen 24h. Breakfasts from 5:00 am till 7.00.
Two tennis courts.
Voleyball court.
Golf course.
Fully equipped gym.
Theater.
BlueBay Spa, sized 2.500m2 with first class service open from 9am till 19pm.
Conference hall with capacity for up to 650 people.
Internet room (extra charge).
Shopping mall with boutiques, newsstand, tobacco shop and souvenir shops.
Entertainment and Acivities
Entertainment and activities available within or near the hotel at no charge
Children's activities.
Table tennis.
Water activities and AquaGym.
Giant chess board (next to the pool).
Tennis.
Theater.
Scuba-diving (tours at additional cost).
Universal gym (bicycle, stepper, treadmill,...).
Volleyball (in the pool).
Entertainment and sports equipment.
Mini Club with specialized monitors.
Available at the hotel or belonging to the hotel with charge
Recreational facilities.
Tennis lessons.
Karaoke (once a week).
Billiard.
Shopping mall with boutiques, newsstand, tobacco shop, etc.
Non-motorized water sports: sailing, kayaking, etc.
Deep-water diving.
Massages, facials and body treatments.
Golf (in El Camaleón Mayacoba).
Available in the hotel area, all at no charge
Available in the hotel area, all with charge
Deep-water diving.
Water jets.
Catamaran tours.
Tour de Fishing.
Bicycles (normal and mountain bikes).
Campo de prácticas de golf.
Fishing.
Night clubs.
Racquetball.
Hiking.
Squash.
Football.
Horseback riding.
Water-skiing.
Wine tasting.