Welcome to BlueBayGrandEsmeralda.com®
Blue Bay Grand Esmeralda Resort & Spa - All Inclusive
The hotel Blue Bay Grand Esmeralda is located in a privileged enclave in Playa del Carmen in the natural area of Riviera Maya, among beaches with turquoise clear water, fine sand and archaeological sites. Surrounded by jungle and mangrove swamps and a private beachfront of more than 500 meters, this exquisite resort combines elegant Mayan touches with contemporary design and a wide range of services to please the most demanding traveler.
Blue Bay Grand Esmeralda consists of 979 elegant guest rooms finely decorated, overlooking the sea or the beautiful landscaped grounds, and spread over 8 buildings in an area of 180 hectares of beachfront. The resort offers all the facilities to enjoy and relax in a modern Spa of 2,500 m² and a fully equipped gym. And to satisfy your taste buds, during your stay Blue Bay Grand Esmeralda offers a wide variety of restaurants for you to enjoy more creative dishes made with the best products. Do not forget to book dinner at "Don Isi" Gourmet Mexican restaurants, where you will find the most significant specialties of each region of Mexico. A real treat for the palate of the most demanding traveler. Definitely a fine choice.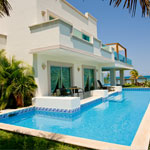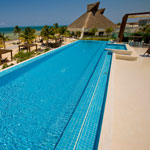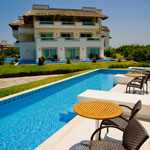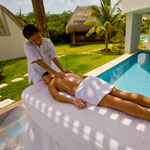 Just 40 minutes away from the international airport, Blue Bay Grand Esmeralda offers a surface of over 2000 m² with capacity for 650 people in a flexible space, which can be divided into 3 different rooms with all the facilities for congresses, incentives, conventions, award ceremonies, meetings, etc.
The rich natural environment, sandy beaches and first class hospitality from our experts, make the hotel Blue Bay Grand Esmeralda the perfect setting for your dream wedding.
In the hotel you can enjoy a wide range of water sports from windsurfing to diving, and for children, there is a mini club with specialized monitors.
Taking into account that good tourism and ecology go hand in hand, each and everyone, employees and customers of the hotel Blue Bay Grand Esmeralda aim to preserve the ecosystem respecting the environment and nature.